WS ULTIMATE PRO
With big pride the company GRIZZLY is introducing you to this unique diamond wire machine – WS ultimate pro, designed for masonry cutting with the purpose of additional hydro-insulation or for hard building materials cutting stone or reinforced concrete. Our machine was in development for five years and it has the best attributes possible. With these attributes our product is leaving the rest of its rivals behind and its ranked on the top of the diamond wire cutting world. With its engine power of 11kW, extremly high torque 215Nm and the speed of wire 18m/s the machine is capable to cut a wall stronger then 300cm without any doubt.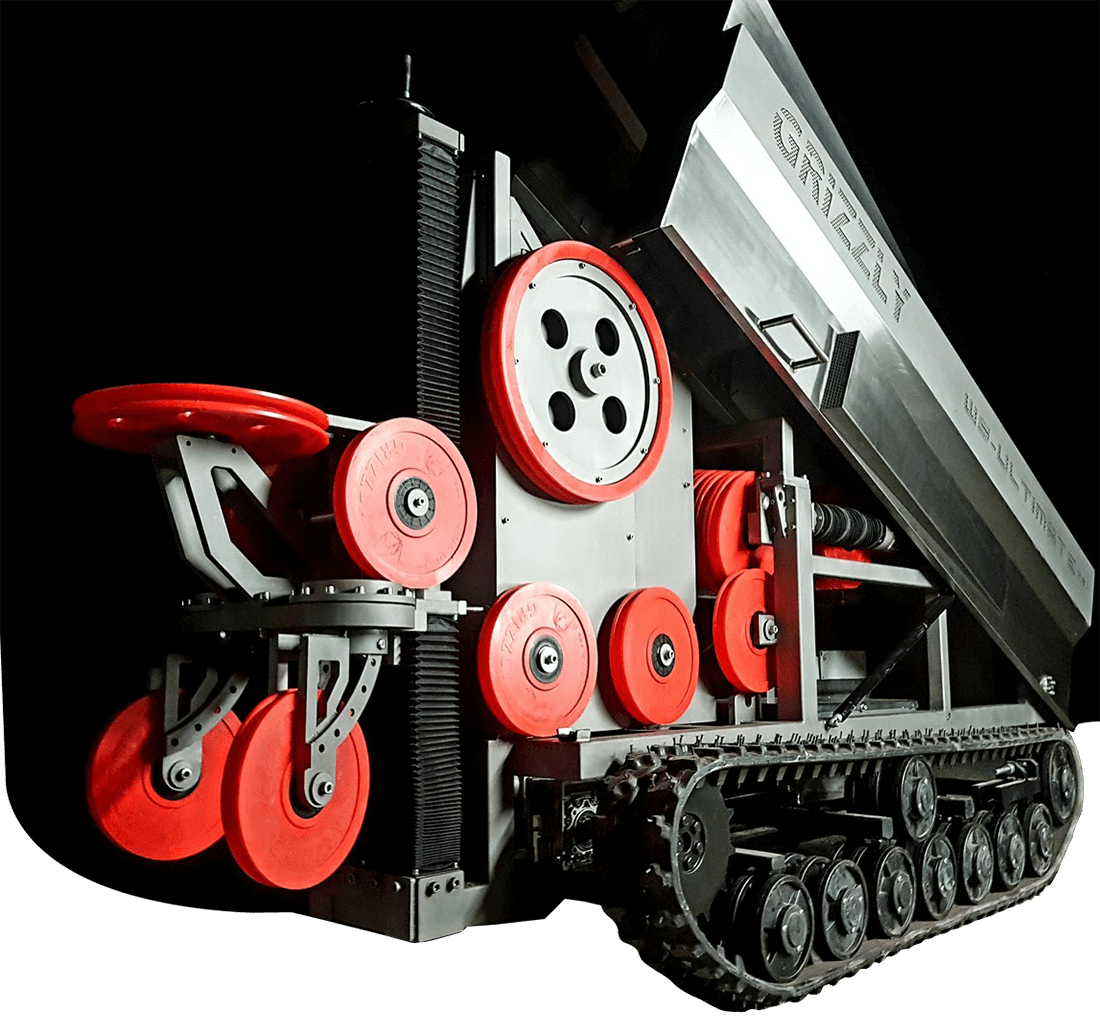 Experience gained  while on site is that the terain is mostly iregular and very difficult without the possibility of anchoring. Thats why we decided to design rubber tracks with chassis, that can secure you troublefree transport on the building ground and great stability during cutting. Rubber track movement is powered by strong 48V(47Ah) Li-on battery allowing you to move continuosly  for more than 20 minutes.  Recharging of the battery is automatically done during cutting.
GRIZZLY WS Ultimate Pro has the biggest wire storage bin in the world considering masonry cutting segment. The storage bin has 20 polyurethan pulleys that can take up to 16 meters of the wire.
The next exceptional feature is a quick and easy adjustment of the cutting height thanks to adjustable front pulleys controlled by  remote. These front pulleys are selfturning to the course of cut thanks to a sofisticated bearing system. The machine is also capable of vertical cutting with the help of specific  front pullies, that will lead the wire to start cutting vertically. Changing from horisontal to vertical cutting is possible in the matter of seconds. A  polyurethane driving wheel is designed with two sheave grooves to avoid any wire sliping, extending the lifespan of the pulley significantly. All of the machine pulleys are made from finnest polyurethane  with waterproof bearing system from NTN.
The machine is powered by high quality german motor controlled by frequency converters from the company OMRON. The wireless radio controller is custom made by the canadian company Magnetek and it is fulfilling highest standards for building area work. This kind of fine-tuned system is offering you high-level reliability that is so important for every cutting company.
We include  the wire saw also a water supply  electrovalve designed for wire cooling during cutting process. This valve is also controlled by Magnetek controller. Whole body of the machine is made from stainless steel DIN 1.4301, all connection accessories included. Main cover is designed to retain  water during cutting process.